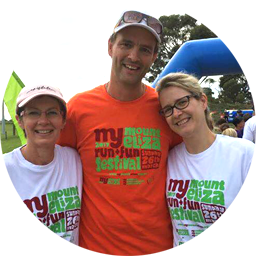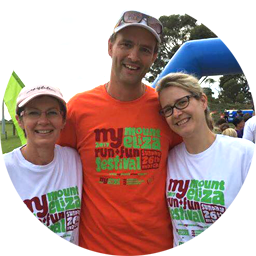 We are a rallied group of locals who believe that healthy individuals and families is what make for a resilient, generous and happy community.  We believe that our ability to empower others starts with our personal wellness. So, we decided to volunteer our own talent and time to create a sustainable annual festival that benefits the community for the longer term.
The MY Mount Eliza festival is the brainchild of Mt Eliza local
Geoff Nyssen  who, in 2014 at the age of 40, was diagnosed with Multiple Myeloma, a terminal blood cancer.  With this devastating circumstance, Geoff has found a way forward – trumping adversity with empowerment and inspiring and rallying others along the way to live well.  The MY Mount Eliza Festival will boast the values that Geoff and the MY Mount Eliza committee believe form the foundation for an engaged and resilient community.
#HelpGeoffTo80
With Myeloma being a terminal cancer, Geoff is determined to dance the funky chicken at his 80th birthday party.  Life for cancer patients and their families is made easier with the support provided by the specialist nurses at Myeloma Australia. Over the past two years, the MY Mount Eliza Run & Fun Festival has raised over $70k for Myeloma Australia which has funded a part time nurse over this time.  For 2019, we have the ambitious goal of raising $80k for Myeloma Australia to fund two part time nurses!!  This is all in the pursuit of 'Help Geoff to 80'.